Bismillah trades in vintage Oriental carpets and is managed by myself, Machushla Falkiner, and Deryl Barlow. Deryl is known for her passionate love of Persian carpets and her extensive knowledge around their history and weaving. After hosting an exhibition of her carpets at Ibis Gallery about 3 years ago, we felt that it would be a complementary element to include carpets on a permanent basis. Deryl and I entered into a partnership, and trade as Bismillah Vintage Carpets at Ibis Gallery.
We both favour older carpets, with their wonderful qualities of age, traditional designs and traces of having been used - these carpets are after all functional as well as beautiful. Hand-knotted tribal carpets are gradually becoming more of a rarity - young folk are no longer keen to devote themselves to this laborious and exacting art as so many generations did before them. The political and social turmoil in the areas which have traditionally produced the bulk of the carpets, does not help.
We source our carpets from various authentic suppliers and auctions. We try to keep our prices low, so hoping to make the purchase of a beautiful carpet affordable and within reach!
Carpets currently available:
LURI (2018/B1)
(245 x 146cm) Western Iran, Zargos Mountain area, wool on cotton. R6,900.00
KELIM (2018/B2)
(198 x 103cm) Typical flat-weave, new. R3,800.00
MILAS (2018/B3)
(216 x 120cm) Turkey - Anatolian. Wool on wool, geometric design. Approx. 25 years old. R5,000.00
Afghan Prayer Rug (2018/B4)
(115 x 72cm) Wool on wool, long fringes, about 10 years old, Design: Pillars of Life and Mihrab. R3,400.00
Afghan prayer rug detail (2018/B4)
YUNTDAG - Anatolian Prayer Rug (2018/B5)
(130 x 98cm) Turkish, wool on wool with flat-weave end borders and fringe. Reliably 60 years old as it is dated 1958 within the design - a rarity that makes it an unusual collector's piece. In very good condition. R10,000.00
ARDEBIL Runner (2018/B6)
(305 x 100cm) Good condition, but has a small, carefully repaired spot. Wool on cotton, cropped fringe. R7,500.00
ARDEBIL Runner detail (2019/B6)
KARAJE Runner (2018/B8)
(116 x 350cm) Iran, near Tabriz. Wool on cotton, cropped fringe. Excellent condition. R9,900.00
KARAJE Runner detail (2018/B8)
BELUCHI (2018/B7)
Iran (342 x 115cm) R5,800.00
Turkish Yagcibedir (2019/B7)
(175 x 115cm) Turkish double-niche prayer rug, wool on wool. Excellent condition. R5,800.00
Turkish Yagcibedir detail (2019/B7)
HAMADAN (2019/B2)
140 x 95 cm (R3,800)
Wool on cotton, a quaint tribal rug woven on a horizontal loom, resulting in a slight irregularity of shape. A combination of floral and geometric designs.
HAMADAN Runner (2019/B1)
285 x 110 cm (R5,900)
Wool on cotton, central diamond medallion on a floral field, with floral borders
HAMADAN Runner detail (2019/B1
SHIRAZ (2019/B3)
200 x 135 cm (R5,800)
Very unusual geometric/floral design, the top and bottom ends having a stip of Kelim weave instead of fringing. An area of selvege has been repaired otherwise in excellent condition.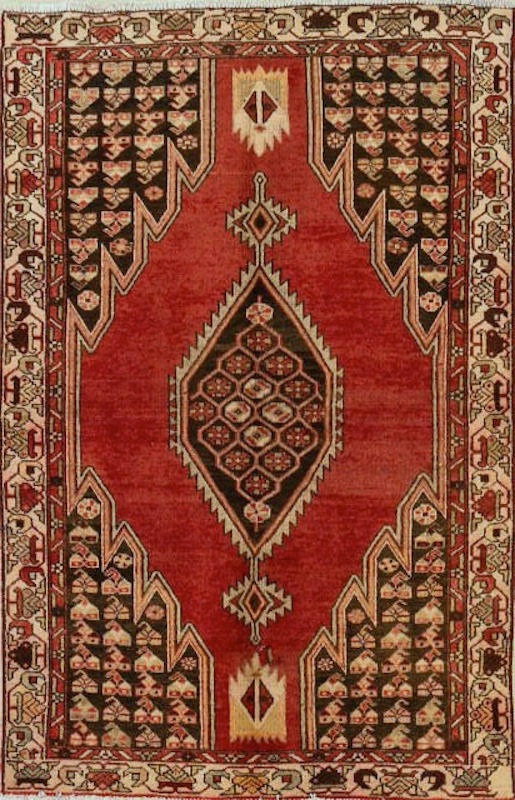 MAZLAGAN (2019/B4)
193 x 123 cm (R3,500)
Traditional 'lightning' design with unusual botehs. One very well executed repair, only visible from the back. Mazlagans are no longer easy to find. A single blue dot in one of the boteh motifs represents the deliberate irregularity required by Islam, as only Allah can create perfection.
MAZLAGAN detail (2019/B4)
ZANJAN (2019/B5)
Traditional prayer rug with a double mihrab. Very charming Trees of Life, birds and flowers.
LORI (2019/B6)
180 x 120 cm (R4,300)
Tribal rug with writing (origin and meaning obscure) in the central cartouche. Very striking burned orange in colour, with typical geometric/floral design.